Disclosure: The below contains affiliate links, which means we'll receive a commission if you click on a link. We hope you like our picks!
There are only so many times you can rearrange your bookshelf, clean out your fridge, argue internally about if you should give yourself bangs (you shouldn't) and polish up your Pinterest boards. Also, we all can't set the record for the number of shows watched consecutively in one sitting. Let someone else take that trophy home, would ya? If you're looking to switch up your quarantine routine, keep reading for some fun things to do when you're bored at home. Stay safe and healthy, friends! We're all in this together.
1. Start a Podcast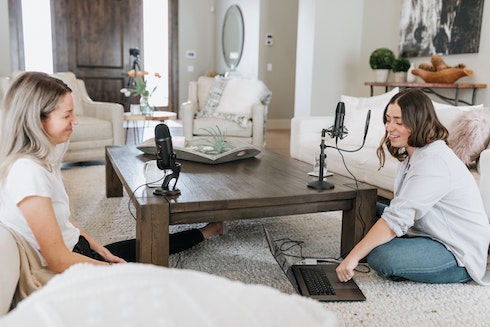 Yes, we're totally serious. Grab your quarantine partner or fly solo and create your own podcast. Need some topic ideas? Into photography, film, music, fashion, animals, comedy, plants, travel, puppets? Talk about that! It's easier than you think to get started. Check out this post on how to start a successful podcast.
2. Make a Vision Board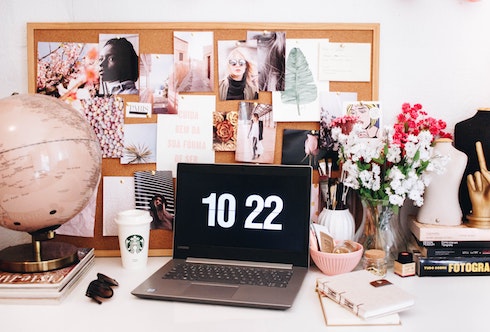 We love a good vision board and what a positive and hopeful activity to fill a day or evening with! Daydream about future homes and babies (yes, fur babies count) or future trips and careers. All you need are some scissors, a poster or cork board, old or new magazines, some glue or push pins and a little imagination. Check out our article on How to Make a Vision Board.
3. Take an Online Class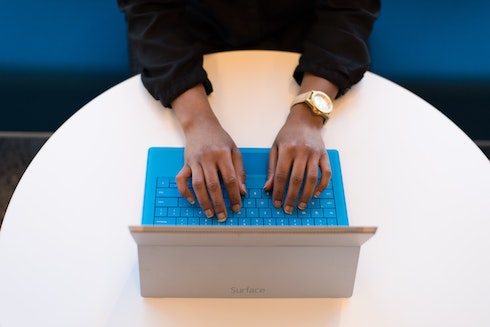 Whether you want to learn a new craft or beef up your resume by brushing up on a skill, there are a ton of online classes out there. Many are even free right now! Want to learn about Psychology? How about Marketing 101? Check out this Inc. article for their favorites and get the full list of free Ivy League classes here. Want something a bit more creative? Check out Brit.Co's online classes. You can learn how to snap the best travel photos on your phone, how to use Photoshop for your blog, how to kill it on Instagram, coding, jewelry making, watercolor, beer brewing and so much more. Use code SELFCARE to get all their classes for free through April 9.
4. Makeover a Room into a Zen Zone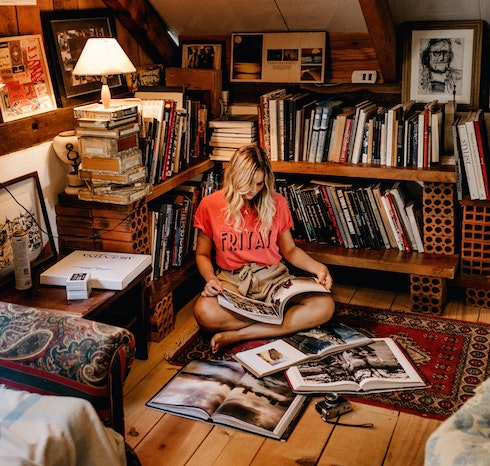 Full disclosure: We can't take credit for this one. While scrolling through our Instagram feed, one of our friends (hey Bonnie!) posted about how she turned her den into a she-shed/yoga/puppy snuggling/work zone. What a genius idea! Whether you have an extra room or just a little nook, set aside a place to go where you can be creative and just feel good. No bad vibes allowed. Put down a boho rug, yoga mat, floor pillow or pouf and get to zen-ing.
5. Treat Yourself to an At-Home Spa Day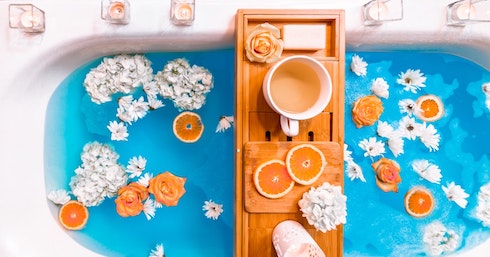 It's the perfect time to indulge in some relaxing self-care time. When it comes to spa ideas to treat yourself with while at home, take your pick: Light a candle, turn on some tunes and take a bath, give yourself a pedicure, put on a sheet mask or try out a brightening eye product. Want to get really wild? We frequently revisit this oldie but a goodie post on how to give yourself a facial at home.
6. Host an Online Pizza Cook-Off
This is one of our favorite things to do in person, and thanks to Google Hangout, Skype, FaceTime and Zoom, you can easily do it virtually with a group of friends! On your next essential trip to the grocery store, pick up some pizza dough and ingredients then make a date with some friends or fam. We love to grill pizza, but you can also make it in the oven. Our biggest pizza gamechanger? A pizza stone… and ricotta cheese. If you already have food to make, host an any kind of dish cook-off and throw a virtual dinner party.
7. Play Board Games With Your Quarantine Partner
If you're lucky enough to be in quarantine with a roommate or partner (or extremely well-trained dog), kick it old school and bring out the board games! Some of our classic favorites include Life and Monopoly. Our current top favorite? Ticket to Ride! Travel to different places like New York, London, Japan and other destinations without booking a flight. Shop and compare more board games on Cartageous. 😉
8. Break Out a Puzzle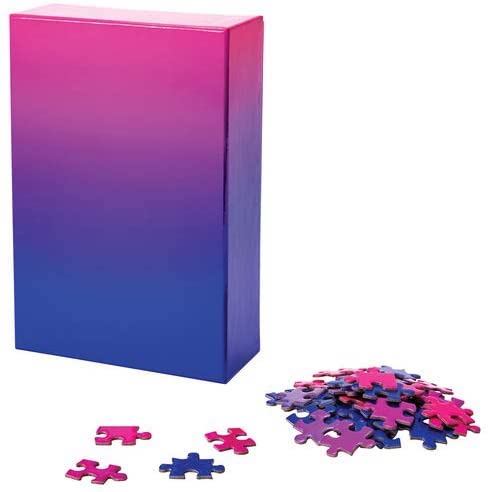 Thankfully, you don't need a quarantine partner to do this one. Pour yourself some tea (or okay, let's be real… some wine) and put a puzzle together. Don't roll your eyes! There are a lot of puzzles these days that are cooler than the ones in your grandma's bookshelf. (No offense, Grandma Lu, the Dumbo puzzle you gave us over the holidays is obvi our favorite.) When you're finished with your cool new puzzle (you did it!), you can frame it as a piece of art. Or not! Follow your heart. We're digging this purple ombre puzzle.
9. Read a Book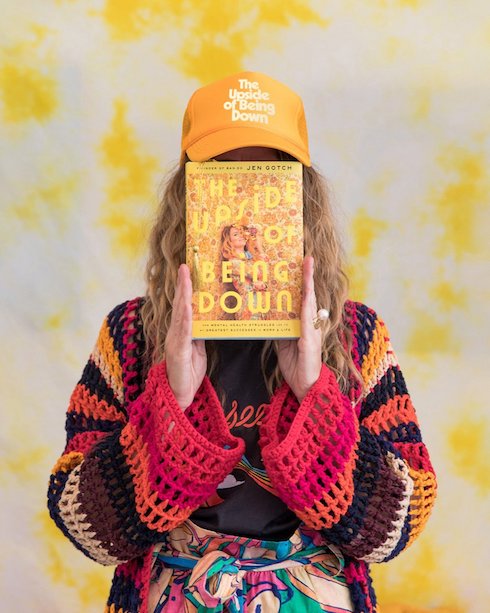 We love curling up with a good book, especially when the world gets a little too much and we need an escape. You too? Opt for a can't-put-it-down-even-though-homg-it's-3am kind of story. We can't wait to dig into the newly-knighted New York Times Best Seller, The Upside of Being Down, written by Jen Gotch, the founder and Chief Creative Officer of one of our favorite shops, Ban.do. Here's the scoop from the Bando site: "Part memoir, part self-help book, and part business guide (all at once!), Jen shares the story of how her mental health struggles started her on a journey toward self-awareness, acceptance, success, and ultimately, joy. It's a funny, inspiring, relatable, and honest account of Jen's life—ups, downs, and everything in between." Sold. From what we can tell, it's a budding entrepreneur/Jen Gotch fangirl (#guilty) dream read.
10. Go for a Walk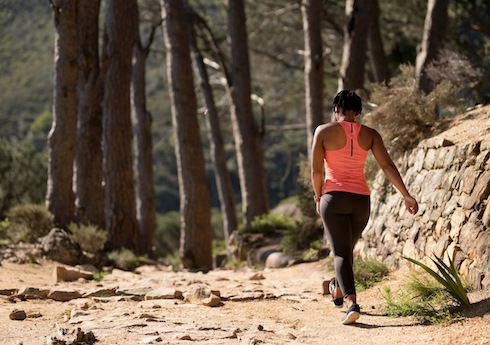 Or run! Or skip! One of our favorite things to do when we're feeling WHAT IS HAPPENING, THOUGH lately is getting outside for a bit and breaking a sweat. Not a running kind of gal? No judgment. Head out for a little stroll. Be sure to pick a safe, not crowded area where you can still practice social distancing.
11. Adopt or Foster a Dog or Cat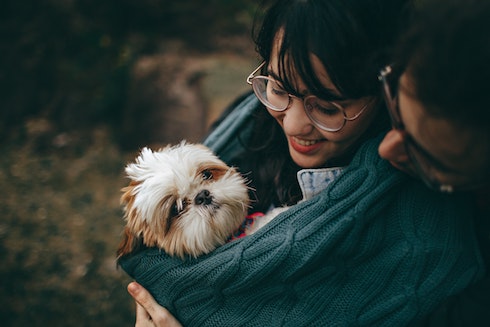 We could all use a close friend right meow and there are so many wonderful animals who need a loving home. If you have a safe home and a little extra cash every month for a few necessities like food, treats, and toys (unconditional love is free), contact your local animal rescue center. Dogs especially thrive on routine, and bonus, having a routine as a human is one of the best ways to keep anxiety at bay. If you can't quite commit to adopting, try fostering a babe for a bit. Trust us, it will change your life (and theirs!) and your heart will grow more than you ever thought it could.
How are you guys having fun at home? Share the love in the comments below!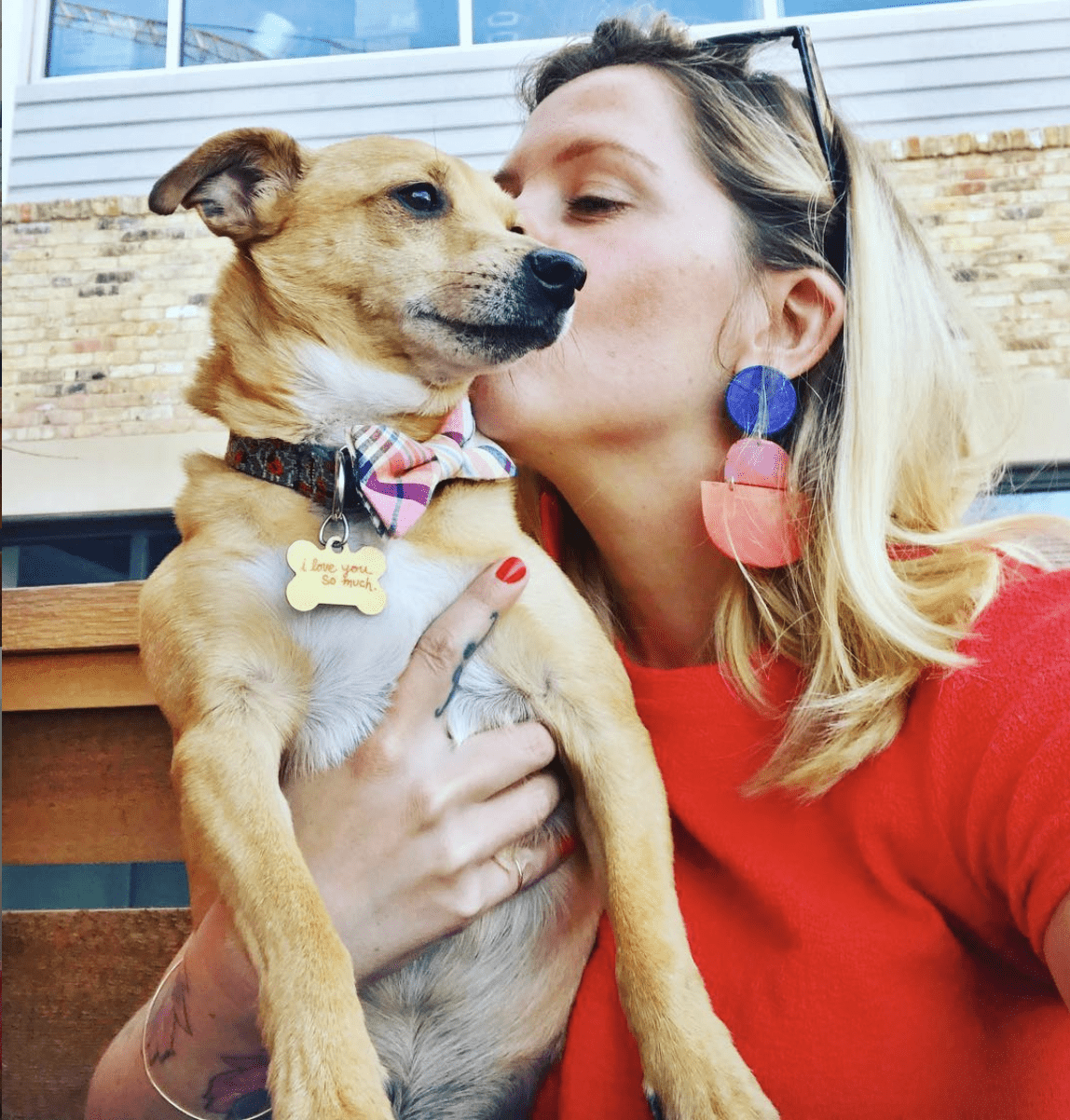 Melody Rose Rowan is the Director of Content & Strategy for Blender Networks, Inc. When she's not managing blogs for FitMinutes, The-E-Tailer, Cartageous, InStyleRooms, NurturedPaws & Shoelistic, she's getting her fix of breakfast tacos and Topo Chicos in her hometown of Austin, TX with her husband and rescue dog, Jake, and attempting to keep up with her own blog, Mustache Melrose.