A couple of months ago, I kept seeing this adorable carry-on pop up in all of my social media feeds. It seemed like every blogger, Instagram-er or Pinterest-er was talking about this particular travel carry-on—the Away Bigger Carry-On. I welcomed these ads because the bag looked totally cute and I really like totally cute things. I like to think that it wasn't only advertising at work here, that it was also a sign from the universe telling me "Woman, get your travel bag life together." My suitcase situation at the time was embarrassing. Side note: wouldn't "My Suitcase Situation" be a great band, blog or improv team name? Ahem.
I'm not even sure how I ended up with a cloth plum-colored suitcase that had been beaten up from years of traveling and moving from city to city. I finally realized I had to make a change when right before a trip, I noticed a huge hole at the bottom of my beloved plum suitcase. My Lyft driver was minutes from arriving so I had to act quickly. I panicked and decided to cover the hole with duct tape… Y'all, I learned that day the only duct tape I owned had mustaches printed all over it. Because of course. I had to travel with a bag held together with mustache print duct tape. Not exactly the look I'm going for. It was time to put a new carry-on in my online shopping cart and click purchase. And I'm so glad I did. I'm living my best travel life these days. Keep reading for all of the ways I love my Away Bigger Carry-On. 
IT FITS A TON OF STUFF & KEEPS ME ORGANIZED
It's laughable how opposite my boyfriend and I are when it comes to packing for a trip. He is a minimalist packer who geeks out about only bringing necessities and fitting those necessities (like two socks) into one bag. Just kidding, he takes more than that on a trip… I think. Meanwhile, I'm over here in the bedroom that now looks like a tornado hit it, geeking out about… What events will we be attending? What will the weather be like? Are we going swimming? Gah, I hope we're not going swimming, I'm not even close to bikini body ready yet. Do I want to wear these sneakers or these boots? Or these boots? Or these boots? Okay, just in case I'll bring all the things.
Phew. The struggle is real. Thankfully, the Away Bigger Carry-On holds a ton of stuff. I went to visit my coworkers in Canada (hi y'all!) for a whole week and was able to fit everything comfortably inside. We're talking shoes, more shoes, jewelry, jackets, socks, under thingies, dresses, lots of jeans, too many jeans, always too many jeans, and more socks. I really can't get over how much this bag fits. And bonus, the inside is so thoughtfully designed with a section for clothes and another for shoes and toiletries, a nylon laundry bag for dirty clothes and a compression pad to allow for even more stuff.


IT'S DURABLE, LIGHT & EASY TO WHEEL AROUND
I had to sit on my new Away Bigger Carry-On to zip it and it took my weight like a champ. (See notes on my over-packing ways above.) And I'm um… no string bean. I'm what a Southern grandma might call "healthy." *grumble* Anyhoo, I feel like my new carry-on is durable enough to take any abuse from being tossed in and out of airplanes. It's actually made from an unbreakable material that allows it to bend when pressure (like my healthy weight) is applied to it. And because it's super lightweight, the carry-on itself doesn't add to the weight of all my stuff I stuff into it. It's also incredibly easy to wheel around. The Hinomoto wheels rotate 360°, allowing for effortless cruising through the terminal.

IT KEEPS ME JUICED UP & LOCKED IN
This is major. You can charge any USB device with the easily removable 37-watt lithium-ion battery located underneath the handle. It's TSA-approved, they just ask you to pop it out from the bag and keep it with you while you fly, which is great because that's the perfect time to plug in. The combination lock is also TSA-approved and gives you a bit more peace knowing that your precious goods aren't flying down the runway.

IT'S EASY TO CLEAN
I decided to check my carry-on for one of my recent trips. It's a TLDR long story, but I was traveling with my rescue pup and I can be a bit of a crazy, paranoid dog mom he can be a bit of a handful, so I didn't want to also worry about wheeling around a bag. That's the perfect equation for me accidentally leaving it in a bathroom stall and not realizing it until 2 hours into my flight. (Knowing yourself is key, you guys.)
Now, I'm not sure what exactly happens to suitcases during the time you check them in and pick them up, but good lawd, things DEFINITELY happen. You could have the cleanest bag (like say a new Away Bigger Carry-On) and it will tumble down the baggage claim slide covered in what I can only describe as tar-like yuckness. Thanks to the durable outer shell though, I was able to wipe it perfectly clean when I got home. Okay, if I'm being honest here, it took me a couple days to get around to doing it. It wiped off just fine. Good as new! It also comes with a cloth bag to store it in while you're not out traveling the world.

IT'S SUUUH CUTE
When I travel with my new Away Bigger Carry-On, I feel like I totally look like one of those girls who has her life together. You know, the girl who has an organized closet, the girl who has a skincare routine for morning AND night, the girl who remembers when garbage day is so the trash doesn't stack up for a week or two and end up becoming a dinner table for a family of sweet (but SO hungry) neighborhood raccoons. ME?! Look like this put-together gal? I mean, it has inspired me to step up my travel fashion game. What's next? Six months of expenses saved up in my bank account? A house? A plant? A baby? Another rescue dog?! I dunno, probably!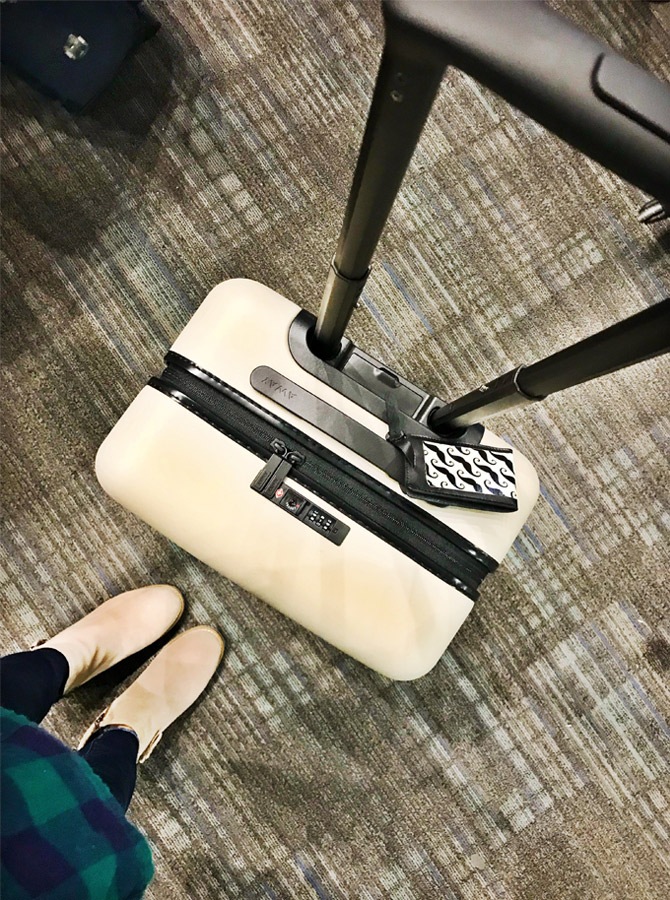 Long story long, I'm so in love with my Away Bigger Carry-On. If you're in the market for a new travel bag, I can't wheel this suggestion toward you enough. (GET IT?! WHEEL?) And right now, you can get a $20 credit when you use this link to make your first order on Away (and any of the above links too.) If you're looking for a larger bag to check, Away makes those too. They also offer a smaller version of the Bigger Carry-On called—wait for it—the Carry-On.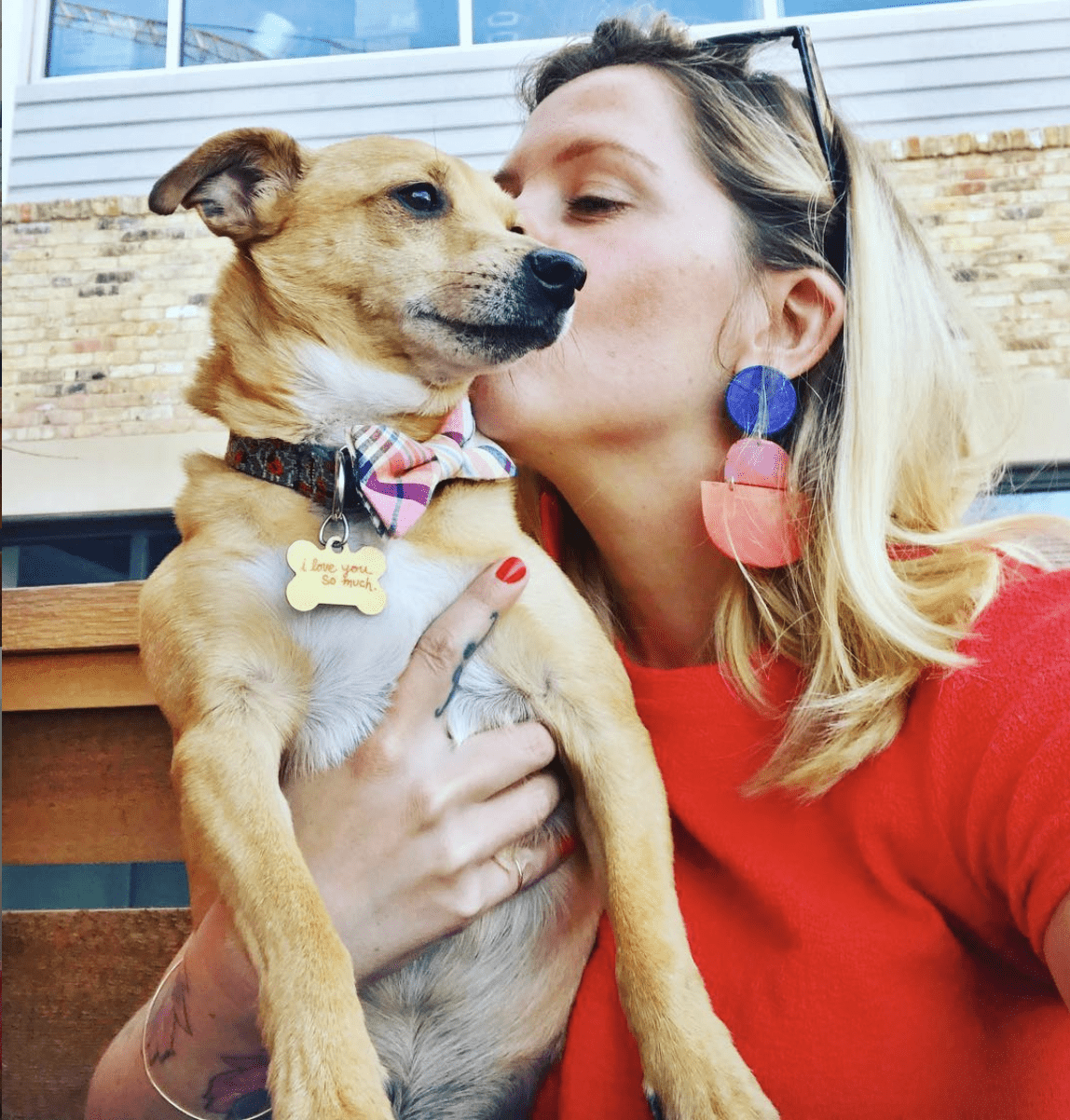 Melody Rose Rowan is the Director of Content & Strategy for Blender Networks, Inc. When she's not managing blogs for FitMinutes, The-E-Tailer, Cartageous, InStyleRooms, NurturedPaws & Shoelistic, she's getting her fix of breakfast tacos and Topo Chicos in her hometown of Austin, TX with her husband and rescue dog, Jake, and attempting to keep up with her own blog, Mustache Melrose.
Summary
Reviewer
Review Date
Reviewed Item
Away: The Bigger Carry-On