Disclosure – The below contains affiliate links, which means we may receive a commission if you click on a link. We hope you like our picks!
If you're going on a beach vacation soon, chances are it's all you can think about! Sand, sun and surf are always in style, whether you're hitting up your local beach, taking a road trip or flying to a luxurious tropical island. Get ready to travel with our printable Beach Vacation Packing List. Read on to make sure you have everything you need.
DOWNLOAD THE BEACH VACATION PACKING LIST HERE

Is this list too beach specific for you? Try out our Vacation Packing List, designed to fit every vacation!
What to Pack for a Beach Vacation
Sunscreen is Key
First things first: you NEED sunscreen. This is not optional. If avoiding skin cancer isn't enough of a reason, sun exposure ages your skin and causes wrinkles and spots. It's not worth it! Hit up your favorite spray tan place before heading out, and make sure you have plenty of sunscreen with you. Your sunscreen should be at least SPF 30 and should block both UVA and UVB rays. It's worth a couple of extra dollars to get a sunscreen you really like. Consider it an investment for your skin.
We highly recommend getting a reef-safe sunscreen. These sunscreens are less likely to damage marine life and are better for you too! Check out a couple of our favorites below.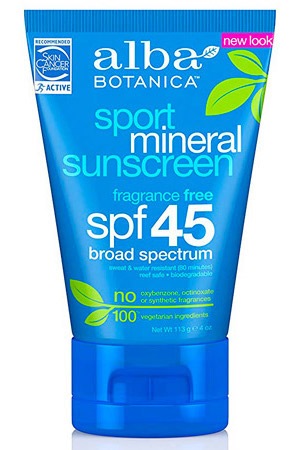 Aveeno Natural Protection Mineral Sunscreen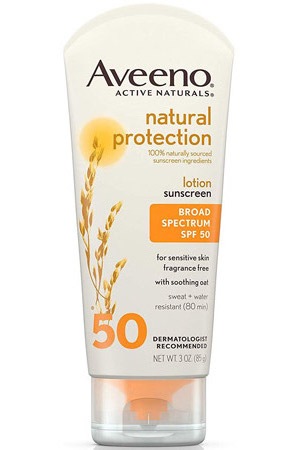 Second, be sure you pack a moisturizer for your skin. Sand, sun, salt and sunscreen are going to dry and exfoliate your skin, and it will thank you for moisturizing it. While you ideally won't get burned at all (remember to reapply sunscreen often!), we also like having some Aloe Vera on hand. Another nice option is after-sun lotion. This is basically a lotion/aloe combo cream, designed to use after a day at the beach. There are lots of options for lotions, so choose what works best for your skin! We recommend a non-comedogenic formula that won't clog your pores. Cetaphil is a dermatologist-recommended brand for all skin types, and Sun Bum's Cool Down Lotion feels great after a day outside.
Cetaphil Moisturizing Lotion for All Types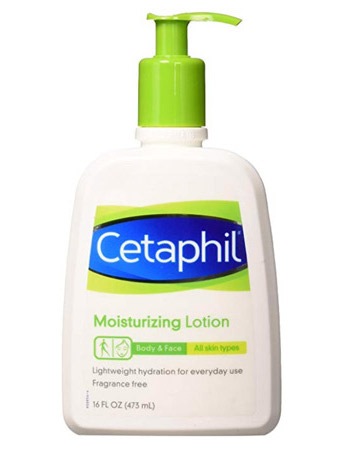 Essential Beach Gear
You'll obviously want to pack a swimsuit or two but be sure to remember a cover-up, even if it's just shorts and a shirt. You never know when you'll need a little extra coverage to grab that iced coffee or smoothie. Sunglasses, a hat and hair ties are things you'll want to have with you at all times. And of course, you'll want to have a cute beach bag you can carry all your items in. If you don't want to take your favorite beach bag onto the sand, consider a cute BeeGreen reusable shopping bag. They're cute, roomy and stronger than you would think! Best of all, you can just shake the sand right off and fold it up into its attached pouch for easy packing.
If you're driving to the beach, you should consider bringing a few additional items. You'll definitely want a cooler for sandwiches, water and drinks. If you want to keep costs down a little, take sandwich supplies and make your lunch on-the-go. Bonus—everyone can customize their own sandwich, and you won't lose your spot on the sand! An umbrella, or a pop-up canopy, is a good idea if it's going to be super warm and sunny. Chairs are also great—what's better than sitting on the sand and listening to the surf? If you're going to the lake, be sure to bring your floaties for maximum relaxation. If you have kids, some toys are great too—sand toys for toddlers and sports toys for older kids.
Lastly, be sure to consider if you want any special gear. A dry bag will keep your phone and other stuff dry while kayaking or tubing. It's great to have some nail polish to touch up your toes after a day of walking in the sand. If you're going to be swimming in a chlorinated pool and you have blonde or color-treated hair, consider picking up a post-chlorine shampoo. These will remove the chlorine completely, protecting both your hair and color.
TRISWIM Chlorine Removal Shampoo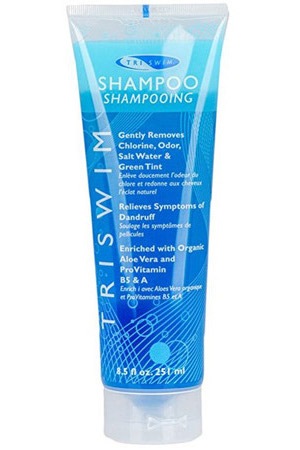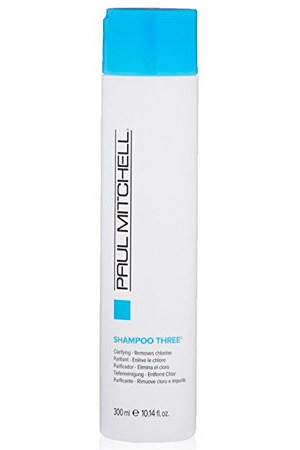 What to Wear on a Beach Vacation
Okay, so you've got the gear, the sunscreen and your shades. What clothes are you going to pack?! Here are our recommendations.
Beach Cover-Ups
We're guessing you're going to spend a lot of time at the beach. It's why you're there! Having a couple of fashionable cover-ups can take you from sand to lunch effortlessly.
Sarongs are a traditional cover-up, and they're a great choice because they're so versatile—you can wear them so many ways!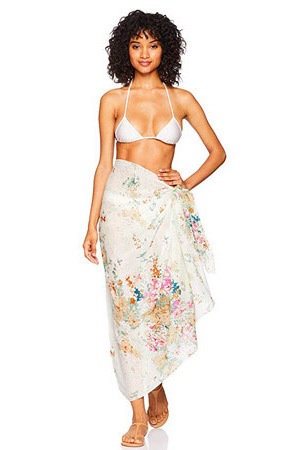 We also love linen shirt dresses because they're super lightweight and easy to throw on.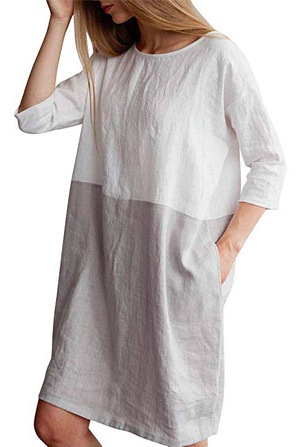 Wrap dresses are a cute choice, and bonus—you can keep it on for dinner after the beach.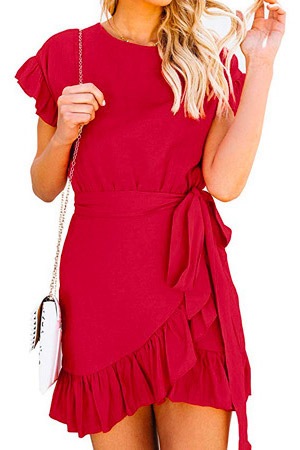 A tent dress is another popular option, especially if it has pockets. Gah, we just love dresses with pockets.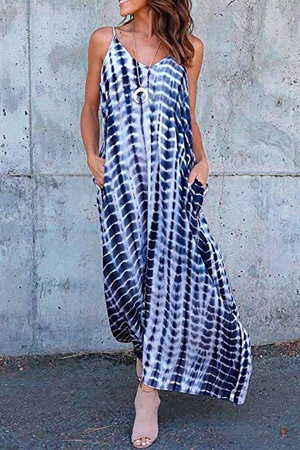 Resort Wear and Beach Town Outfits
Don't get caught up in the name—Resort Wear is a style you can (and should!) wear even if you're not going to a resort. This is also a great time to break out your strappy sandals and big sun hats. A sundress or shorts and a tank top are perfect for an afternoon of browsing shops, and a cute maxi dress with heels or flats is a good choice for dinner. Whatever you wear, make sure it's comfortable and versatile. You never know when the wind will kick up or the temperature will drop, but you also don't want to melt in the sun. Choose light, breathable fabrics, like cotton and linen, and leave anything heavy at home.
Adventure/Action Wear
If you're not planning on leaving the beach, you can skip this section. But if you're heading somewhere that might have hiking, parasailing or zip-lining, make sure you're prepared! Bring some closed-toe shoes – bonus if you can swim in them. Make sure you have some light layers and consider investing in a rash guard. They'll protect you from—wait for it—rashes from sand or life jackets. Many of them are also UV protective, giving you added protection from harmful rays. Sunglass straps or chords will keep your expensive shades from falling off. If you're going to a more tropical area, consider insect repellent as well.
Whatever beach you're going to, be sure to print out our Beach Vacation Packing List. Cross out anything you don't need on your trip and add in anything extra on the blank lines. Print out a second copy of the list to take with you – when you're packing to come home, you won't forget anything.
DOWNLOAD THE BEACH VACATION PACKING LIST HERE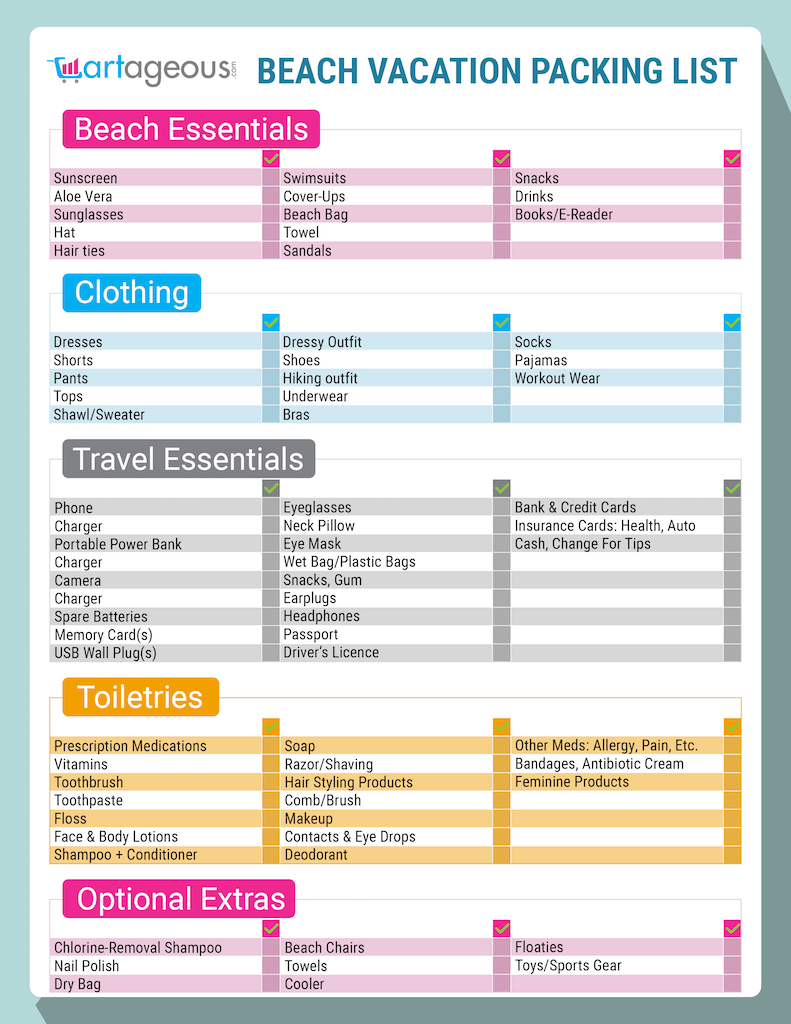 Going somewhere not on a beach? Check out our Vacation Packing List, designed to make sure you have the essentials for any trip. Just have a case of Wanderlust? Check out our recent Travel & Lifestyle posts.
Recent travel blog posts: